TouchBase Pro
Automated Client and Prospect Email Notification System

Automatic Emailer For Alarm SQL
Send important notices by email to your customers automatically with this essential companion to Alarm SQL

Communications is key to survival of any business. Staying in touch with your prospects and customers help build stronger relationships which leads to a higher rate of satisfaction and increased sales. This requires a committment on your part to 'touchbase' on a frequent basis to keep them informed of your products as well as ensure they are satisfied with the level of service you provide.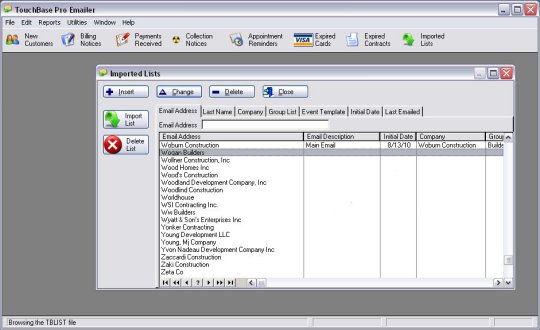 TouchBase Pro automates the task of customer communications. By cultivating the rich set of customer data already inherent in your Alarm SQL customer database, TouchBase knows when to send out email reminders and notices to your customers based upon key events. Just setup once, and TouchBase works every day automatically by scanning your customer records and imported email addresses to send out the appropriate email communications. You can even schedule individual emails to be sent out at a future date or series of dates.
All email content is under your control. Use the text email editor in TouchBase, or send out an HTML-based email that you have created. TouchBase Pro even supports file attachments so you may include company newsletters, special discount certificates, electronic catalogs, or any other type of attachment you wish.
Now with TouchBase Pro 3, integrate automatically with Alarm's Customer Inquiry/Mail Merge area as well as with our Pursuit Proposal Writing Software.
TouchBase Pro can deliver emails automatically for any of these conditions in Alarm:

| | |
| --- | --- |
| Customer Event | Email Description Examples |
| Payment Received | Send a thank you and acknowledgement when payments are received and posted into Alarm so your customer knows you have received their payment. |
| Service Appointments | Email a reminder to your customer of an upcoming service appointment. Also send an email once a service has been performed to check on customer satisfaction of the service (ie: customer survey) |
| Pending Charges | Send a notice to customers paying by credit card or EFT that their account will be charged shortly for recurring charges. |
| Past Due Notices | Send different emails to past due accounts based upon age of invoice. |
| Expiring Contracts | Notify customers before their service or monitoring contracts are about to expire. Also send an email as a final notice once a contract has expired. |
| Expiring Credit Cards | Notify customers before their credit card expiration date has expired so they can provide you with updated credit card information. Also send an email after a credit card expires explaining their card has expired and request a new card. |
| New Customers | Send a thank you to new customers that get added to Alarm (based upon their first purchase). Even attach a certificate or referral fee coupon if they provide you with a referral. |
| Import Email Addresses | Import email addresses from any program's exported text file (containing just a list of email addresses). Once imported, send a broadcast email to all imported addresses for newsletter distribution, sale flyers, preferred customer discounts, prospecting, etc. You can even export email addresses from the mail merge section of Alarm and Pursuit and import into TouchBase for any type of specialized email (ie: false alarm notices, updated product announcements, product recalls, fee hikes, prospect follow-ups, etc.). Send out followup sales materials automatically on a predetermined schedule to stay in touch with your prospects (Day 1-Product Info, Day 7-Newsletter, Day 16-Cross-sell opportunity, Day 28-Sale Offer, etc.). Now with version 3 of TouchBase Pro, Alarm's mail merge secton can setup the email list for you within TouchBase Pro. |
| Integrate With Pursuit Proposal Writing Software | If you use our Pursuit Proposal Writing software, creating follow-up sales campaigns has never been easier. With TouchBase Pro 3, any new prospect you enter in Pursuit can automatically be setup in TouchBase Pro to receive an email campaign based upon the predetermined schedule you choose. |
Not only does TouchBase Pro send out emails to your customers completely unattended, but it can be setup to post an appointment on your Alarm's appointment calendar for a follow-up phone call where requested.
Every email sent by TouchBase Pro is automatically recorded into your Alarm software 'Mailings' list so that you have an indication that an email was sent to that customer for a specific event. An Activity Log in TouchBase Pro also keeps track of when emails are sent out and to whom. Copies of each email delivered can be sent to your existing email programs inbox as well.
TouchBase Pro also has the ability to import email addresses for broadcast emailing. Simply create a text file of email addresses and TouchBase Pro will send out your email to everyone on that imported list. You can even schedule multiple emails for different purposes - all sent at various times - to those email addresses. The uses are limited only by your imagination.
Pricing
We accept VISA, MASTER CARD, AMERICAN EXPRESS, DISCOVER or Check By Fax.

| | | |
| --- | --- | --- |
| Software Version | Description | Price |
| TouchBase Pro 3 | Automated Email Notification System | $399 |
TouchBase Pro Download Center
Resources to assist with your evaluation

View TouchBase Pro Video Tour


Download TouchBase Pro Demo Version


Download TouchBase Pro Documentation
TouchBase Pro Highlights
Top Things To Know About TouchBase Pro
Automatically sends emails out to your customers AND prospects on a daily basis based upon key events
Email reminders to your customers on upcoming credit card expirations, contract expirations, past due notices, pending recurring charges and upcoming scheduled services.
Email surveys once service has been performed to ensure satisfaction with work performed.
Send thank you notices to new customers for their business, include referral coupons or other incentives to help build business.
Email confirmation of payment received
Perfect for sales follow-up. Import list of prospects or manually enter prospect email addresses, then let TouchBase Pro send out follow-up marketing and sales materials on pre-determined periods.


Supports grouping email addresses for various email campaigns.

Scans Alarm SQL database daily to find customers matching an event and sends out appropriate email accordingly.

Uses existing email addresses for customers within Alarm SQL. No importing required for customers.